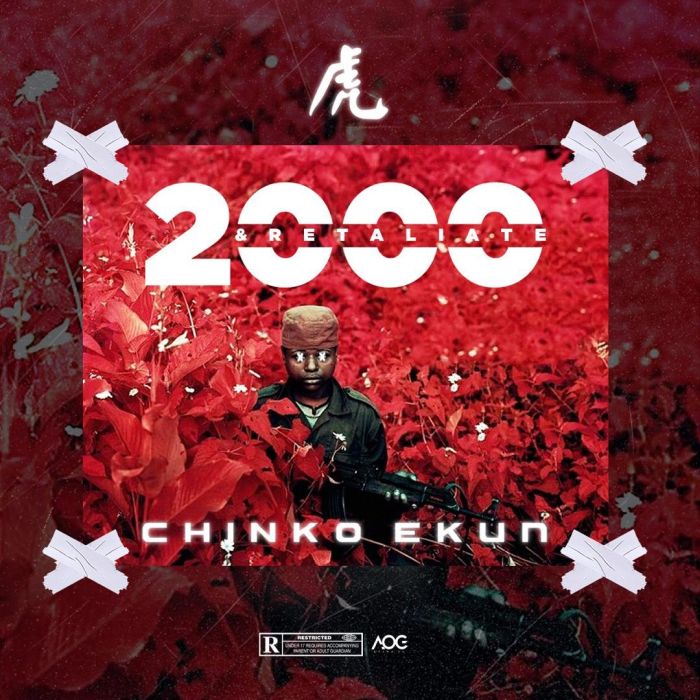 Nigerian versatile indigenous rap act, Olamide Oladipo, the Able God crooner, popularly referred to as Chinko Ekun kicks off the year with a hardcore lyrics filled track titled '
2000 & Retaliate
'.
Due to tons of messages requesting for the Lyrics, here we bring to you the Lyrics to the new tune.
In case you haven't download the Song yet, check it out below alongside with the Lyrics.
---
LYRICS

[Intro]
Teba dara si wa
Awa na o dara si yin
Ni o amo ti e ba le ya were awa gan
Oloriburuku ni wa oh
Mo kan ni kin sare clear yin
Eni to ba le'ti ko de gbo, tiger, eruku nla nla
[Verse 1]
Shout-out to those that believed in me and never left me
I'm stepping on my enemies with a truck feet
Wise like a tortoise
Although I made some profit
Gathered my gains and looses and I won't misuse my resources
But no regret
Still relevant
I'm prominent
They never know the story yet
They wonder how the glory set
If e no work we go reset, omo agbudo blow ni se
Plenty people don sly me but I never wished my hommie dead
Cos I'm pure to the heart
Pure to the soul and I don't need to shout, I'm bad to the bone
No need to famz, I just dey on my own
I stepped into the game, plenty rappers dem overdose cos I'm a man
Ani mo ti de si yin lorun, s'oro werey
Egungun eja lo ma ah si e l'ofun
Town ta ti paint red, l'eyin werey wa lo n kun
They murmur like Israelites, ki lo seyin te wa lo n kun, kaasa
[Chorus]
Te ba dara si wa, awa na ma show yin love, awa na ma fi'fe ahn
Te ba dara si wa, awa na ma show yin love, awa na ma fi'fe ahn
Te ba dara si wa, al'awa na ma show yin love, awa na ma fi'fe ahn
Te ba dara si wa, awa na ma show yin love, awa na ma fi'fe ahn
[Verse 2]
Won ni Chinko yi le payan
Run won je bi lion, Babylon must fall and we'd be rising up to Zion
Ton shu lion, ton chu lion, [?]
Chinese ko mean pe ta ba ja ashima triumph
Mi o raye, mo wa less busy
Tin ba pa rapper kan, to'n ba beere next victim
I'm a blown artiste jhor e ma lo be simi
E ma je ki Starboy binu, no go vex Wizkid
I dey spit barz, [?] me I get prison
Everybody lo no time and we all get season
Aimoye iwa ibaje ti mo ti je ti sin
Mo fi'wa ipanle mi le omo e get reason
Because mi o raye gbogbo drama
Awon kan ti f'ori be mo savage won bi ti iya jam jam
Ma forh fun opponent or else a pa e pelu counter
Ko si eni ti a ba e ro, to ba je bic abi eleganza, kaasa
[Outro]
Ani bi e dara siwa
Awa na ma show yin love
Show me cutlass
Awa na ma show yin ni gun
T'e ba shey normal
Awa na ma fi'fe han
Too much barz gbogbo yin ma ti m'ewon [?]
Mo kan ni kin so fun yin
Ke je ki ori yi ma pe oh
If you do anyhow you see anyhow
The End!!!
Do you want to download all latest  Nigeria Music ? Click here >> Nigeria Music


To Download Your Favorite music Videos Click Here>> Music Video

Get all music Lyrics On  9Jaloud Music Lyrics

We the 9jaloud team want to hear from you all,  drop your comments below. (Registered Users Only) 

---