2018 Neco Geography Objective & Practical / Physical  Questions and Answers is available ,all you need to do is to follow the instructions above, get verified Geography Objective & Practical / Physical  Questions and Answers here, question and answers are now Available. expo for Neco 2018 geography, exam runs for Geography objective and practical / Physics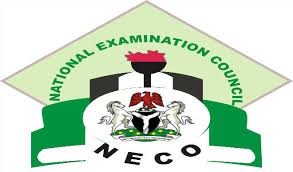 Keep Refreshing this page to see more answers
GEOGRAPHY OBJ:
1-10: BBDEADACAA
11-20: DCDDCEBCAC
21-30: AEECADBBAD
31-40: BADDDCEECE
41-50: DBACACACCB
51-60: EDADACACCC
GEOGRAPHY 
SECTION A
(1)
a
Original length=39cm
Original breadth =39cm
Original scale=1:50,000
converting to a third of the original map we have
New scale=1:50,000×3
=1:150,000
New breadth= 39/3 =13cm
New length= 39/3= 13cm
DRAWING
b)DAYAN-NKANTA settlement
From the left. =15cm/3 =5cm
From the top =19cm/3=6.3cm
ii) River adeukro
From the left =27cm/3 =9cm
iii) class 2 road
TECHIMANTIA
from the right =8/3=2.7cm
From the top =16.3/3 =5.4cm
BECHEM
from the right=7.5cm/3 =2.5cm
1d) The road network on the mapped area consists of class 1road which moves from road camp in the southern part and moves through the Western part and class 2&3 road connected at duayaw-Nkwanta. and nodal town and pass through susanho to North west,. Another interchange to awonmo a nodal town and moves to benchem and TECHIMANTIA which is a commercial area
(2) (YEAR 2003)
COUNTRY|COCOA PRODUCE|DEGREES |
___________
P |200 |42.35°
Q. | 400 |84.71°

R. | 800 |169.4°

S. | 300 |63.53°

——————————————— total=1700.

Total =360°

---
2b) kindly use compass for accurate drawing of a pie chart use the above degrees

SECTION B COMPLETED

---

3a)

1)The Intermontane plateau: is when a plateau is surrounded by mountains on all sides, it is refers to an Intermontane plateau. Some examples of the Intermontane plateau include the Tibetan plateau and the Bolivian plateaus.

2)The Piedmont plateau: a Piedmont plateau is located close to a mountain on one side. Some good examples of

Piedmont plateaus are the Malwa plateau in India, the Patagonian plateau in Argentina and the Piedmont plateau in America.

3)The Continental plateaus- when a plateau is surrounded by oceans or plains, it is refers to as continental plateau. Examples of continental plateaus include the plateaus of Western Australia and Africa.

4)Dissected plateaus : These plateau are highly eroded plateaus cut by rivers and broken by deep narrow valleys.

3b)

1)Plateaus are very good sources of minerals such as Iron, copper, gold, diamonds, Manganese, coal, etc.

2)Areas that have plateau also have waterfalls as river falls from a great height of the plateau

3)Although plateaus are not very good for agricultural activities due to hard rock formation, hence, agricultural activities can be carried out at the base of the plateau where lava soils have deposited.

4)Plateaus that are formed from the lava of volcanoes have very fertile soil, making them useful for agriculture

activities

5)Many plateaus have scenic spots and are of great attraction to tourists. (Good examples are the Grand Canyon and many waterfalls).

---
4a)solar system is the collection of eight planets and their moons in orbit round the sun, together with smaller bodies in the form of asteroids, meteoroids, and comets
4bi)
-Mercury is the innermost of the eight planets in our Solar System. It is the second densest major body in the solar system after Planet Earth and its density is slightly less than the density of Earth.
-It orbits the Sun once in about 88 Earth days.
-Its diameter is 4,878km at its equator, which is about two-fifths of Earth's diameter
4bii)
-Composition
The composition of the Earth consists of the solid and liquid portion and the atmosphere or gaseous portion.
-The earth is spherical in shape
-Size
The diameter of the Earth at the equator is 12,756 km (7,926 miles), and its circumference or distance around the Earth at the equator is 40,075 km (24,901 miles).
4ai)
i)caves
ii)sinkholes
iii)skyline landscapes
(4aii)
Drawing - UPLOADING
(4b)
i)Limestone are all used to neutralise excess acidity of soil in agriculture practice.
ii)Limestone is used as a building material.
iii)It is used in industries to purify iron in blast furnaces.
iv)It used in Glass making.
---

5a)
Drawing - UPLOADING
5b)
i)A great circle is the shortest path between two points along the surface of a sphere.
ii)great circle is the intersection of the surface with a plane passing through the center of the planet.
iii)They cross successive meridians at different angles.
5c)
i)Great circle are of importance to navigation and aviation.
ii)The shortest route between any two places is along the arc of the great circle which passes through them.
iii)Ships crossing the vast oceans and aircrafts follow the Great circle route in order to save fuel and time.
---

(8a)
i)Encroachment : More migration lead to
less availability of land which lead to higher economic value of land.
ii)Pollution: Explosive increase in the urban population without
corresponding expansion of civic facilities such as lack of adequate infrastructure for the disposal of waste results in waste clogging the
natural channels and storm water drains.
iii)Illegal mining activities: Illegal mining
for building material such as sand and quartzite both on the catchment and on the bed of the lake have extremely damaging impact on the water body.
iv)Interference in drainage system:
Drainage congestion caused by badly
planned construction of bridges , roads , railway tracts, hampers the
flow of water and the result is flood.
(8b)
i)Flooding leads to loss of human life
ii)Flooding leads to damage to property
iii)It leads to destruction of crops
(8c)
i)Improving Drainage Improving water drainage helps control floods by facilitating easy flow of excess water, especially in urban areas during flash floods.
ii)Building Dikes and Levees Dikes and levees are flood-control structures built to fight river flooding and water surges.
iii)Building Canals; Canals are artificial water channels that can be crucial to flood prevention. Canals facilitate control of water levels passing through, and form linear reservoirs and water locks.
iv)Harvesting Rain Water Harvesting rainwater involves collecting and storing rainwater and can not only prevent floods, it can also curb urban water scarcity.




Friday 1st June 2018

Paper III & I: Objective & Practical / Physical � Geography � 10:00am � 12:30pm
Also Read>> Neco 2018 Whatsapp Exam Runs Package | Neco Exam Expo

Procedure on How To Subscribe for 2018 Neco Geography Objective & Practical / Physical  Questions and Answers.


No more Direct mobile this time, our answers delivery will be strictly via whatsapp.



Answers delivery via whatsapp for Geography Objective & Practical / Physical  Questions and Answers is N600 MTN card.



Also Read>> 2018 Verified Neco Timetable

First Procedure on how to Subscribe



To subscribe for  GovernmentObjective and Essay questions and answers send the card pin, Subject name(Geography Objective & Practical / Physical  Questions and Answers)  and your phone number Via SMS To 08065889844



Second Procedure On How To Subscribe 



Here you can send us the card pin and subject name( Geography Objective & Practical / Physical  Questions and Answers) Directly to our whatsapp 08065889844



Mind you our  Geography Objective & Practical / Physical  Questions and Answers is N600 MTN Card


"

Subscription will End 1 hour before each exam start



"
Note: please do not call our number, simply send message on whatsapp or using SMS 
---

2018 Neco Geography Objective & Practical / Physical  Questions and Answers is available ,all you need to do is to follow the instructions above, get verified Geography Objective & Practical / Physical  Questions and Answers here, question and answers are now Available. expo for Neco 2018 geography, exam runs for Geography objective and practical / Physics 

2018 Neco Geography Objective & Practical / Physical  Questions and Answers is available ,all you need to do is to follow the instructions above, get verified Geography Objective & Practical / Physical  Questions and Answers here, question and answers are now Available. expo for Neco 2018 geography, exam runs for Geography objective and practical / Physics 

Also Read>>  2018 Neco Biology Objective and Essay Questions and Answers | Biology Expo

2018 Neco Geography Objective & Practical / Physical  Questions and Answers is available ,all you need to do is to follow the instructions above, get verified Geography Objective & Practical / Physical  Questions and Answers here, question and answers are now Available. expo for Neco 2018 geography, exam runs for Geography objective and practical / Physics

Last edited by Emmi on Fri Jun 01, 2018 3:38 pm; edited 4 times in total