Hey Friends, Today am going to teach you how to backup and restore your phone files(messages, Call Log, Apps, Images)  in your PC, First of all we need to know what Backup Means
"

Backing up' means making a copy of your most important files; this can then be used if the original copy is lost.


"
Now knowing the meaning of Backing Up we are going to know why we must back up our phone files/data
"

Data is the most important aspect of your phone. ... An attacker could crash a phone operating system or data may be corrupted or wiped out by a hardware problem. Phone can be lost, stolen, or destroyed in a fire or other catastrophe. You should back up your personal or critical work data on a regular basis.


"
How To Back Your Android Files/Data In Your Computer
Here is a powerful software for your pc that can be used to connect to your Smartphone and literally control every important aspect of the device, from your PC Called
MOBOROBO.
Moborobo helps in backingup and restoring your android files/data
Procedure To Backup Files/Data
1. Firstly, 
Download Moborobo For PC Here
2. Install Moborobo , the installation wont take more than Five Minutes.
3. Lunch/Open Moborobo on your Desktop , You will  get a Notification saying , Do you want to allow the following programme to make change to the computer, Click ''Yes''
Moborobo Connection Procedure with phone Using USB Cable
4. Firstly, go to your
 "Settings"
in your phone
5. Tap on your
 "Developer options" ( 
if you dont  have developer options, go to ''
About phone'' 
 then tap
 Builder 
 7 times then Developer option will appear below the settings options 
5.In the developer option, locate  USB Debugging '' Select it''
Once you Get connected, you will see an Icon showing the Name of your phone and the Battery Level at the Top Right side on Your Pc,
ScreenShot as shown Below
Now Follow the Screenshot To backup Your Phone(Android) data 
Click On Back and Restore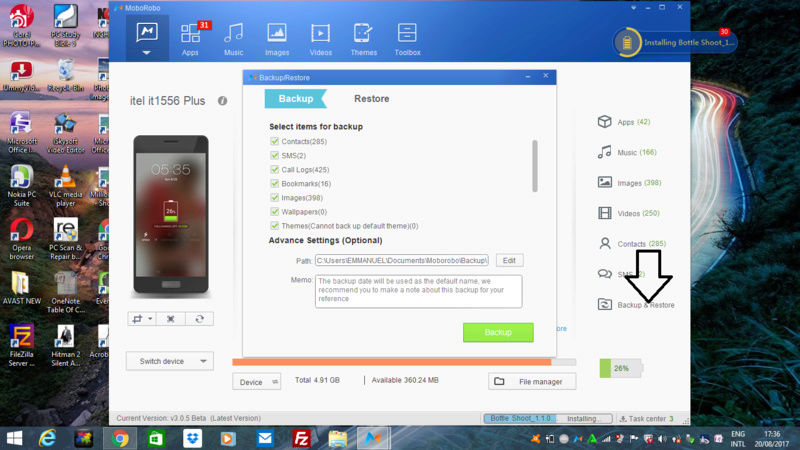 Now Click on Backup and Select the Files(SMS, App, Contact, bookmarks, images, Call log , Themes, wall paper) , Backup the files you've select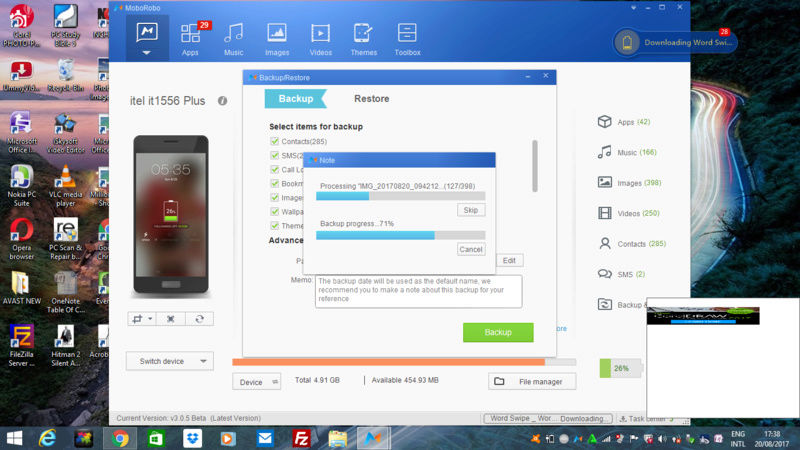 After a sucessful Backup, this is what You will seee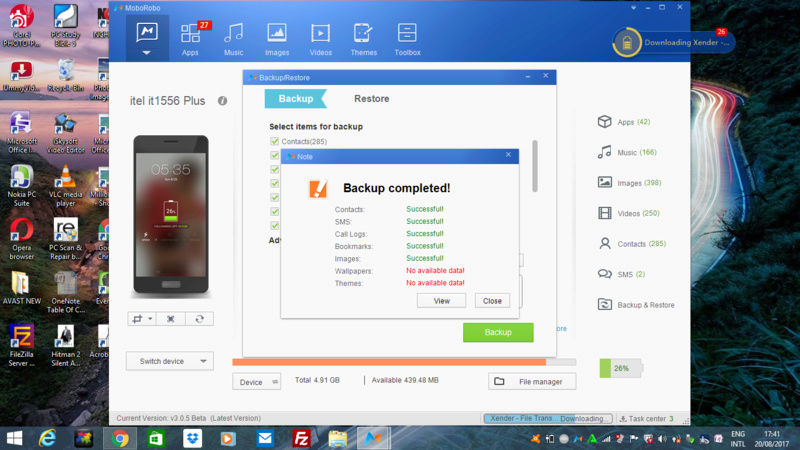 Congratulation, you have now backup your Android files on your PC, Now you can restore this files to any other Android Device 
Restoration Connection


 Follow thesame process of Connection  when backing up

Now Click on Restore and select the Name of the Phone

 Select all the Files You want to restore .

Congratulation, You've restore your Android files from your PC
Incase you find it Difficult in backing  up and Restoring your Files, You can use the comment to ask your questions